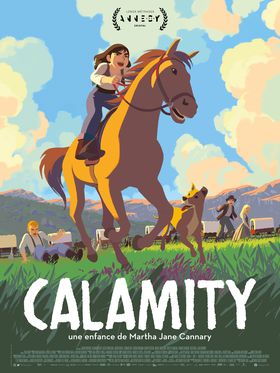 Calamity
4 formats
French
17 subtitles languages
1863, United States of America. Martha Jane's father is injured in a convoy heading west with the hope of a better life. She must drive the family wagon and care for the horses. The apprenticeship is hard, but Martha Jane has never felt so free. And because it's more convenient to ride, she doesn't hesitate to put on pants. It is the audacity of too much for Abraham, the leader of the convoy. Accused of theft, Martha is forced to flee. Dressed as a boy, looking for proof of her innocence, she discovers a world under construction where her unique personality will assert itself.
year

2020

nationality

France, Denmark

running time

1h22

rights end

15/09/2028
colour

Colour

screenplay

Fabrice De Costil, Rémi Chayé

distributor

INDIE SALES COMPANY

7

media

2

technical resources

3

educational resources
Nice film for a bit older kids. Played for 4 days, 125 spectators.
By continuing to browse this website, you agree to our use of cookies to improve your experience.Find out more