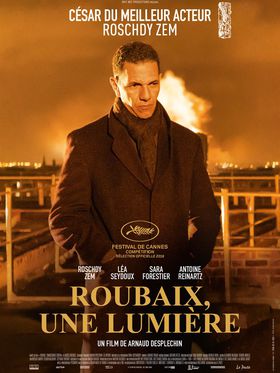 Oh Mercy!
Roubaix, une lumière
with Roschdy Zem, Sara Forestier, Léa Seydoux, Antoine Reinartz
3 formats
French
8 subtitles languages
Christmas night in Roubaix. Police chief Daoud roams the city. Burn out cars, violent altercations... In the face of poverty, deception and distress, Daoud knows who is lying and who is telling the truth. Fresh out of the police academy, Louis has recently joined Daoud's crew. Young, awkward and easily misled, he constantly misunderstands those he encounters. Daoud and Louis are confronted with the murder of an old woman. The old woman's neighbours – two young women, Claude and Marie – are arrested. They are addicts, alcoholic, lovers… They terrify Louis. But Daoud never judges them. He speaks, he listens to them. With words, rising beyond the horror of their crime Daoud will find a way to give two murderers back their humanity.
year

2019

nationality

France

running time

1h59
rights end

01/07/2025

colour

Colour

distributor

WILD BUNCH

7

media

2

technical resources

2

educational resources
By continuing to browse this website, you agree to our use of cookies to improve your experience.Find out more